Percussion (Media Kit)
Media Kit
Author Bio:
After spending around thirteen years as an ordained Buddhist monk, living in a Zen Buddhist temple, and six years after a life-changing injury following a surgical error, Harmony Kent returned to the world at the tender age of forty.
Now, she is famous for her laughter, and has made quite the name for herself … she's also, um, a writer … and fairly well known for that too. She's even won a few awards. Harmony lives in rural Cornwall with her ever-present sense of humour, adorable husband, and quirky neighbours.
Harmony is passionate about supporting her fellow authors.
---
Books by Harmony Kent:
Fiction …
Title: The Battle For Brisingamen (Harmony's first book)
Genre: Fantasy
Publication Date: May 2013
Pages: 307
Asin: B00CNUQCXO
Buy Book: Link to Amazon — mybook.to/BattleForBrisingamen
Blurb —There is a World not too Far Away …
Beneath the north sea a land of magic lies undetected. The lives of many are drawn inexorably closer together in a race against time, as both energy companies and evil beings attempt to destroy the magic which is protecting not just this land but all worlds. The unwitting protagonists have no idea of how suddenly and irrevocably their lives are about to change.
It is a race against time to try and recover the lost necklace, Brisingamen, which holds the ancient power of the Goddess Freya, and to prevent the undersea drilling from taking place. Are Aart, Matthias, Gemma and Dirck up to the challenges they now must face?
Here there be Dragons, and all manner of Creatures …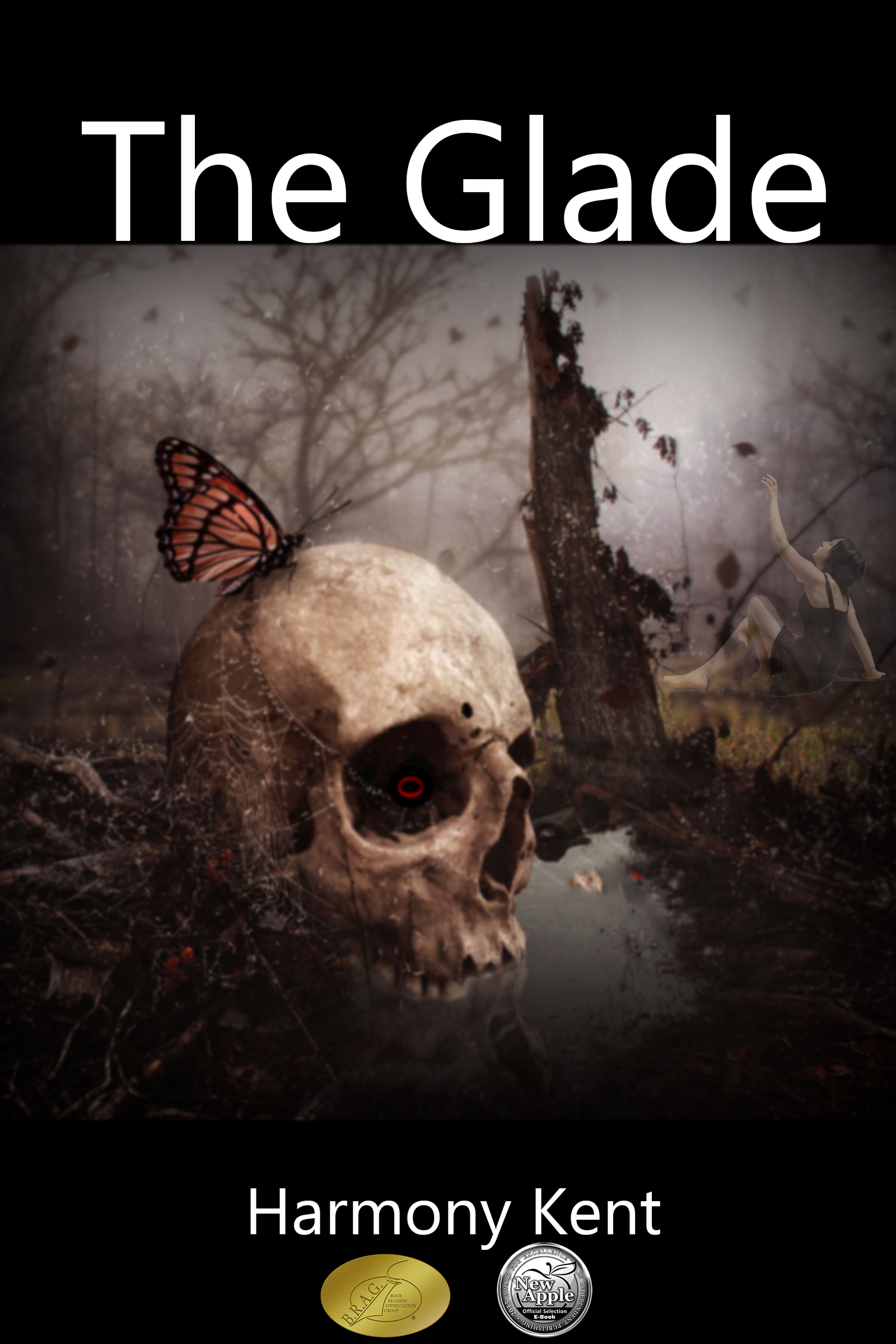 Title: The Glade (Harmony's award-winning second book)
Genre: Mystery/thriller
Publication Date: November 2013
Pages: 446
Asin: B00GNQVPOK
Buy Book: Link to Amazon — mybook.to/TheGlade
Blurb — "Readers who like to curl up during the long winter evenings and feel the delicious chill of fear running up and down their spines need only turn to The Glade to have all their expectations fulfilled.
The Glade is a horror story in the mould of Stephen King, and rendered the more so by its faint echoes of Pet Cemetery and the even stronger resonance of the pervasive malignancy of It."—Review by Brian O'Hare
This gripping, edge-of-your-seat mystery/thriller will have you thinking twice about booking that idyllic cottage in the country. Nothing in this woodland paradise within the Forest of Dean is what it seems. 
The Wenstrops have it all: health, wealth, and happiness. Until everything falls apart. Helen gets arrested for murder, and yet is either unable or unwilling to give a defence. During her detention, vital evidence goes missing and tensions run high.
Meanwhile, in the woods, malignant forces gather power. 
This sensational second novel by acclaimed author Harmony Kent will have you alternately laughing, crying, and gripping the edge of your seat as this roller-coaster ride of a plot unfolds. It will keep you guessing through its many twists and turns, and hijack your attention right up until you turn the final page. This book has it all: murder, intrigue, the supernatural, a broken marriage, a love affair, courage against impossible odds, suspense, and high drama. 
"Expertly written, the book keeps you guessing at every turn. What can I say? You really have to read this book … if you're brave enough!"—Review by Fantasy Queen
The Glade is an IndieB.R.A.G.Medallion honoree, and an Official Selection for the New Apple Book Awards 2015.
Title: Finding Katie
Genre: Literature & Fiction — Coming of Age
Publication Date: April 2015
Pages: 384
Asin: B00V400LWM
Buy Book: Link to Amazon — mybook.to/FindingKatie
Blurb — I killed someone, you see. I killed the girl, who used to be me.
I'm Kate … Kate Charlesworth. I'm seventeen, and self-harming. This time I cut too deep, and I'm in hospital. I hadn't meant for it to be so bad—it just sort of happened. I needed a lot of distraction that day.
You've had bad days, right? Days it hurts too much to think. Days you just wanna stay in bed. Days when the world needs to go away for a while. Right?
What do you do when you've hit rock bottom? When there's nowhere left to turn? 
This one little mistake lands me back on a psych unit—the last place I wanna be. Only this time, the nurse I end up with isn't content to stick on a band-aid and send me home. She wants me to face my demons. But to do that, I'll have to face who I am … who I used to be … I'll have to find Katie. 
Title: Slices of Soul 
Genre: Poetry
Publication Date: April 2015
Pages: 80
Asin: B00VVMBEWY
Buy Book: Link to Amazon — mybook.to/SlicesOfSoul
Also available as an Audiobook via Audible and Audiopub.
Blurb — Slices of Soul is a collection of contemporary poetry from author Harmony Kent that will both delight and call for deeper reflection. 'Phantoms' gives a gritty account of pain that you can never catch. 'Enough' expresses the contentment of Zen. 'Diamonds' shows the beauty to be found on a drab and rainy day. While 'The Alchemist' shows you how a guitar can turn lead into gold. This wonderful arrangement of fifty poems takes you from the abstract of Zen to the melody of music, and will reach into your mind, your heart, and your soul.
Title: Interludes 
Genre: Erotica / Short Stories
Publication Date: May 2016
Pages: 178
Asin: B01BO5LSYQ
Buy Book: Link to Amazon — mybook.to/Interludes_Erotic
Blurb — A collection of short erotic fiction that will tickle more than your taste buds and wet [sic] more than your appetite. 
With a range of genres and styles, this book has enough steam for everyone.
GREY MANCHESTER—contemporary romance in 1000 words. Will Nadine choose to drop her knife or her knickers?
DOUBLE TROUBLE—ménage à trois in 2000 words. After a dry spell, Sophia gets more than she bargained for with a solicitor and a teacher.
DRAGON KISSED—shifter romance in 3000 words. Jenna's life is fairly run of the mill until she has a flying accident. With a dragon. All is not as it seems in this fiery romance.
TRYST—contemporary romance in 4000 words. Polly pushes the boundaries on a workplace night out.
LOVE ON THE CORNISH LINE—contemporary romance in 5000 words. Becky falls flat on her face, and madly in love. Her weekly commute home proves to be anything but routine.
THE INLAW—contemporary romance in 6000 words. At 43, amputee Carla never expected in her wildest dreams to be called a MILF by a hot young stud. Trouble is, he's her son in law's brother. And young enough to be her son. Sparks fly when she's caught with her hands in the biscuit tin.
NIGHT NURSE—contemporary romance in 7000 words. Denise has only weeks left to live. What constitutes life, though? What fills the yawning hours of empty days? Who are you once the chemo and the cancer have stripped you bare? What to do?—Go out on a slow fizzle, or with a big bang?
OVERBOARD—contemporary romance in 8000 words. When Stella falls overboard in the middle of the Pacific, she gets more than she bargained for. Sharks and storms not withstanding.
ALIEN LIAISON—alien romance in 9000 words. When the military transport, Lunas Two, crash lands on Zorth, Jay is given the job of liaising with the locals. She's seen plenty of aliens in her four years of service, but never one as finger licking good as Lemo. How far will she have to go to keep the peace?
SAVING FACE—historical romance in 10,000 words. Non-related step brother and sister, David and Annalise, break all the rules in this steamy historical romance. Forced to live apart from the love of her life and into an arranged and loveless marriage, Annalise has to grow up fast. When all is lost, will she be able to save face?
READER ADVISORY: This book contains explicit sex scenes and language hot enough to melt your Kindle. For mature readers only. 
Title: Moments 
Genre: Poetry / Short Stories
Publication Date: April 2017
Pages: 336
Asin: B06XBYR25N
Buy Book: Link to Amazon — mybook.to/Moments_Anthology
 Blurb — Come. 
Take a moment to delve into tales from the dark side, have fun with fantasy, dabble in dystopia, and court danger in a little science fiction. 
These tales touch upon death, grieving, war, fresh starts, hope, courage, change, choices, and encouragement.
And then, after all that, you'll find the poems. 
From the lonely echoes of an empty house to the soaring heights of unexpected love and joy and learning to live as free as clouds and water.
For each of us, a moment encompasses a lifetime and, yet, passes in but the blink of an eye. In but a moment, everything can change. And in this very moment, life beckons in all its potentiality.
When the shadows fall, what will you do? 
Title: Backstage
Genre: Erotic Romance
Publication Date: March 2018
Pages: 285
Asin: B07BF2S9Y1
Buy Book: Link to Amazon — mybook.to/Backstage_Erotic
Blurb — SHE'S A HOPEFUL ACTRESS
Just when Emma thinks she's found love. Just when her big chance comes. Just as she finds a little confidence at long last. Right then, it all goes horribly wrong.
HE'S HER MENTOR

John believed he had found 'the one'. But the demons of his past wouldn't allow him to break the leash, and when he gets the wrong end of the stick, it just confirms all his old prejudices and hurts.
THEN THERE'S THE BIG MAN WHO CAN MAKE OR BREAK A CAREER, AND THE DEMANDS HE MAKES
Derek Prentis is his name. Coercion is his game. He's the man with the money. The big man who wants to keep Emma under his control and who will do anything to keep it that way.
THE PERFECT STORM OF ROMANCE, PASSION, AND GREED.
AWAY FROM THE LIMELIGHT, IT'S ALL HAPPENING BACKSTAGE.
Title: FALLOUT: A post-apocalyptic novel
Genre: Dystopian Post-Apocalyptic Fiction
Publication Date: August 2019
Pages: 315
Asin: B07S6PJ3L2
Buy Book: Link to Amazon —mybook.to/FALLOUT
Blurb — WHEN EVERYTHING FALLS APART, WHAT CAN YOU DO?
The year is 3040.
The location is Exxon 1, part of a six-planet system in settled space.
Determined to avoid the mistakes of old Earth, the surviving humans avoided democracy and opted, instead, for a non-elective totalitarian system.
The new way worked well, until now.
A crazy, despotic president releases a nano-virus on the population.
No one was ready for the fallout. It came anyway.
In this post-apocalyptic world, can you stay safe?
Non Fiction …
Title: Polish Your Prose (Award-winning Essential Editing Tips for Authors)
Genre: Editing
Publication Date: November 2014
Pages: 186
Asin: B00OLVAYP0
Buy Book: Link to Amazon — mybook.to/PolishYourProse
Blurb — "This book is a mine of useful information. It's concise and easy to understand. You don't have to wade through pages upon pages of chatter; Harmony Kent gets straight to the point. " — Michelle Abbott, Romance Author
"If the complexities of grammar and punctuation sometimes confound you – this gem of a book is for you. This is a guide I'll be dipping into over and over."–Wendy Scott, Fantasy Author
Polish Your Prose is a powerful new guide that gives essential editing tips for authors.
Lots of books have been written on the art of writing, and here—at last—is a guide that will teach you the essential techniques of editing your own book. This will help you turn a promising manuscript into a published novel. And, it does this without the jargon. You don't need to know all the grammatical terms in order to make use of this book. You don't need to know the definition of a split infinitive, a comma splice, or a 'to be' verb, as this manual explains these in detail in easy to understand terms, and a lively and engaging style.
Chapters on Passive Writing, Tense, Point of View, Dialogue, and other techniques take you through the same processes an editor would go through to polish and perfect your manuscript. 
Good writing is nothing without good editing. Learn the secrets of good editing and writing with this essential author reference, which offers so much more for so much less.
Harmony Kent is an award winning author, and accomplished editor and proofreader. Her passion is helping Indie Authors to successfully achieve their goals and dreams.
New Apple Book Awards Top Medalist Winner 2015
Title: Creative Solutions for the Modern Writer
Genre: Creative Writing/Inspiration
Publication Date: October 2019
Pages: 115
Asin:B07WHJPTFW
Buy Book: Link to Amazon —mybook.to/CreativeSolutions
Blurb — Creative Solutions for the Modern Writer is the perfect gift for the writer in your life.
Do you want to be an author? Are you struggling to find inspiration? Do you ever find it difficult to put words on the page? Or are you simply looking for novel ideas? If so, then this book is for you.
This little guide will help you unlock your story ideas and fire your imagination. The text covers things such as writing from various prompts, to using Chess, Tarot, and even nursing Triage (and much more) for developing your characters, story, and plot.
From the award-winning author of Polish Your Prose: Essential Self-Editing Tips for Authors—an excellent companion text—Creative Solutions focuses on the creative side of writing rather than the technical.
This book gives you the tools you need to make writing fun, as well as tips and techniques on creating characters and stories that will stay with you and your readers forever.
Crammed with easy-to understand examples, this guide is for writers of every genre—both fiction and non-fiction, literary, and commercial. But most of all, it's about having fun and making friends with your muse.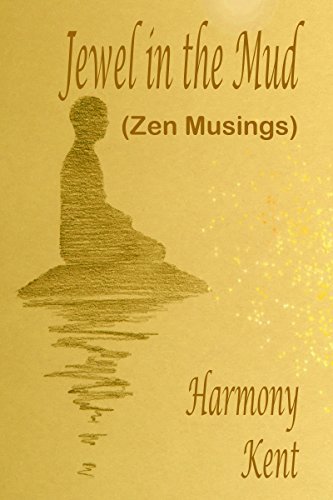 Title: Jewel in the Mud (Zen Musings)
Genre: Buddhism / Mind-Body-Spirit / Religion & Spirituality
Publication Date: January 2018
Pages: 233
Asin: B078WDZ69K
Buy Book: Link to Amazon — mybook.to/JewelInTheMud
Blurb — 'Happiness does not depend on what you have or who you are. It relies solely on what you think.'
Have you ever felt angry? Upset? Hurt? Overwhelmed? Not up to it?
This book, with its pithy teachings based in Zen, will help you find the jewel in the inevitable mud of life rather than wallowing in that mud. 
Not only does each day offer us a new start, a chance to press reset, but so does each and every breath. It's never too late to be who you were meant to be, and your history doesn't have to keep you trapped. And nor do you have to waste endless energy on worrying about all that the future may bring.
Written in an engaging manner, Jewel in the Mud invites you to search within and make your world the way you want it to be. It doesn't give you strict instructions or homework, but instead, invites you to dive deeper, search further, and question your assumptions.
The book has handy thoughts for the week, and can be read in one go, weekly, or dipped into at random. In short, it has been designed to fit in with you and your needs.
Learn how to take control of your life with these Zen Musings.
Anthologies Harmony appears in:
Rave Soup for the Writer's Soul Volume 1
Rave Soup for the Writer's Soul Volume 2
Concordant Vibrancy Volume 2: Vitality
Concordant Vibrancy Volume 3: Lustrate
---
For any media enquiries, please contact Harmony on harmonykent@gmx.com
---
Social Media Links:
---
A PDF of this media kit is available from DROPBOX.
---